Industry
"How many systems do you use to manage the maintenance of your DERs or generation or distribution assets?"

 
DERs and renewable energy distribution assets deal with a myriad of maintenance issues. Think about how much time, expense and resources are required to carry out preventive maintenance on substations, line and pole inspections, troubleshooting devices such as transformers, breakers and capacitor banks to DERs such as solar arrays, batteries and microgrids.
Each of these issues demands multiple and costly maintenance solutions. For example, if a local lineman discovers an engine is down, the maintenance manager would need to be informed. Valuable time is dedicated to diagnosing the problem and procuring vehicles and equipment for repair or replacement. Should there be any miscommunication between the team, this could lead to the potential risk to critical assets, the safety of team members and considerable financial loss.
Proper maintenance of such systems and assets is key to optimizing production and dispatch while avoiding rolling out heavy machinery for reconnaissance purposes. The 60Hertz mobile app can make routine maintenance and inspections simpler. Inspectors can use this application to effectively identify the location of the issue and complete a user-defined form to document and save the results of the investigation.
Pricing Structure
"How many users would require access to your CMMS application?" 
A high-performing maintenance team is defined as "an interdependent, stable, role-defined group of individuals who share responsibility, mutual trust and values while having strong leadership and a clear focus on a common goal." – Wikipedia.
This article by Debbie Zmorenski at Reliable Plant explains that the days of a maintenance manager being solely responsible for the maintenance of his site are long gone. The overwhelming workload creates a bottleneck of reactive maintenance quick fixes that could be avoided. Overworked staff taking on last-minute call outs will lead to a higher staff turnover. Fear-driven decisions will lead to higher production costs and miscommunication between departments leads to communication errors and misinformation being spread across the site.
Maintenance is a team sport. If each individual understands the part they play towards maintenance and proactively collaborates across departments, issues can be dealt with swiftly and potential risks identified before they become a bigger, more expensive problem. Allowing your entire workforce to have access to our CMMS app, will optimize your maintenance systems and ultimately increase the productivity and wellbeing of your workforce.
Evolving technology is revolutionizing the way we conduct business. According to this blog by Renewable Energy World, the trend for renewable energy resources is moving from spreadsheets, paperwork and clunky phone calls to fully integrated CMMS maintenance systems. We help you ask the right questions to discover if switching to CMMS is the right choice for your organization.
There are many barriers that renewable energy distributors face. According to an article by E-International Relations "financial, technological and social obstacles continue to vastly outweigh financial incentives for renewables".
Finance
"What percentage of my operations budget do I currently spend on maintenance?"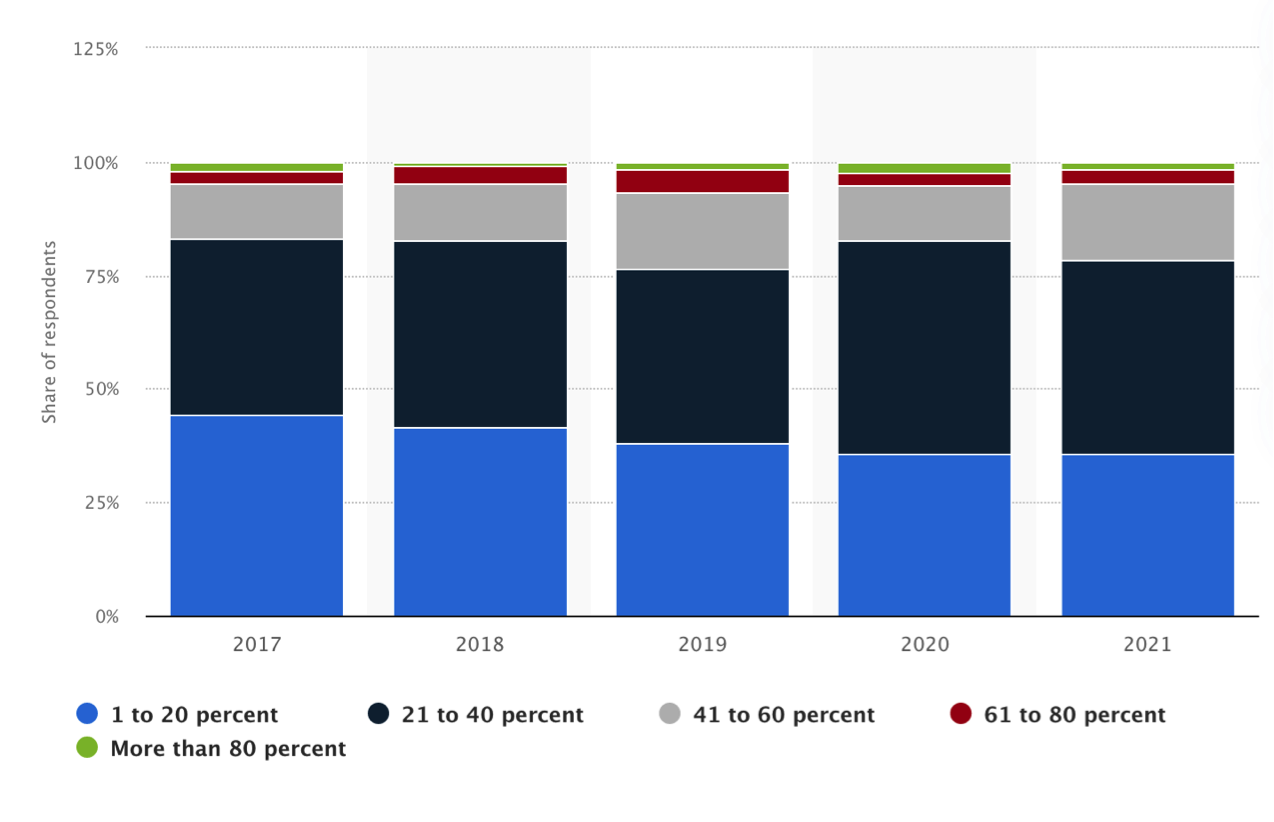 The graph above by Statista depicts the average budget spent on maintenance equipment and supplies in the United States between 2017-2021. This article by UpKeep also confirms that maintenance costs are estimated to range between 15% and 40% of total production costs and by comparing your own metrics to this data, you can get a clearer idea where your facility stands. A good rule of thumb would be a maintenance spend of under 20%. If your expenditure seems a little high compared to these statistics or is above 20%, it may be time to update to a CMMS platform.
"Wood Mackenzie expects the global non-residential solar PV operations and maintenance (O&M) market to reach an annual total of $9.4 billion by 2025."
Say you have a medium-sized wind farm. You don't earn as much as a corporate giant, but you manage to turn over a decent profit. Ask yourself: "What is the value of the installed base of assets?". If it is greater than $10M, utilizing a CMMS is critical to ensuring your maintenance operation runs smoothly. To find out more about our uniquely competitive pricing structure, visit our pricing page.
Technology

"Can you quantify how much resistance to change and new technology is costing you?"
Humans are predisposed to resist change. Tendayi Viki, Contributor for Forbes, writes that the three barriers to digital transformation include inertia, doubt and cynicism. Without CMMS technology, are you able to accurately calculate the cost of maintenance over the past years?
If you are currently tracking maintenance using pen and paper and word of mouth, you are more likely to lose vital information and miss PM schedules, potentially resulting in hundreds of thousands of dollars lost in assets. Your diesel-backed plant will cost thousands in site visits for your distributed energy resources (DERs).
You want to keep track of the performance of your biomass power station and determine the most urgent repair or replacement. Ask yourself: "Am I able to easily track the last two to three years of corrective action, such that a root cause analysis can drive repair or replace decisions?" If the answer is no, you need to encourage your team to embrace new technology and invest in CMMS.
Social
"Do you have access to a shared knowledge base of best practices, maintenance history, and asset performance that your organization can utilize to educate new employees when onboarding?" 
Your workforce is one of your greatest assets. They spend a great deal of time on-site, but can you determine if your employees' work is punctual? Can you calculate the average time it takes to accomplish particular tasks? Your organization needs to make a profit, after all. So if that answer is no to these questions, a CMMS maintenance app will automatically calculate these costs and give you a more accurate read on profits.
Say an employee falls sick and is away for a month. Would the entire system collapse? If your team miss a maintenance log or workflow, would an asset be lost within 24hours or not for a week? The recent COVID-19 global pandemic has made us all more aware of the fragility of our economy based on the strength of our workforce. The graph below depicts the rate of staff absence between January to December 2020.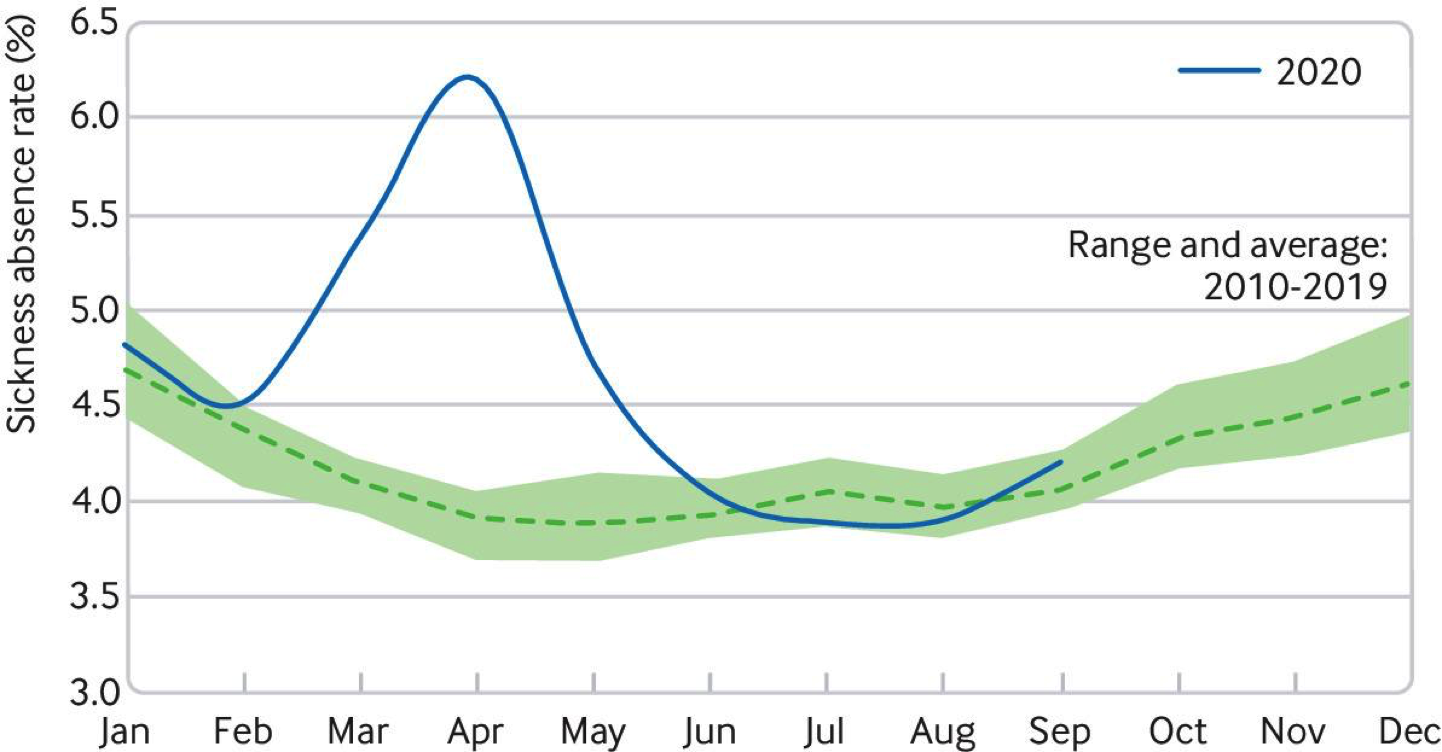 While it is alarming that absence may weaken the workforce, have you thought about what happens when the most insightful members of your team retire? Will they take their unique proficiency of DERs to the grave? This article from IBM discusses how digital technology can help preserve and transfer the 'in their brains' knowledge of retiring workers to the emerging new workforce.
"50% of the entire US workforce will be ready to retire in the next five to ten years, according to the US Department of Labour. That includes 25% of the utility workforce in the next 5years, says the US Department of Energy." – Rick McKay, IBM
HomeServe Utility claims that the fundamental issue we are facing isn't that we aren't producing enough electricity. 50% of our energy infrastructure was constructed before the 1970s. More energy is being produced than the grid can handle and the cost of blackouts have cost the country billions.
The PwC report suggests that "traditional 'word-of mouth' training of utility workers is not sustainable. More than ever before, work processes and procedures should be documented and continuously improved." Our CMMS platform can transfer vital "in their brains" information into a dynamic maintenance log, as well as helping transmit critical information amongst the emerging workforce.
As the indisputable market leader, 60Hertz has designed the perfect CMMS mobile app to offer full support for your DER. You will have likely resonated with these types of questions before and hope we have brought to light what is CMMS and how a CMMS will optimize your distributed energy resources, retain vital "in their brains" information, and motivate your workforce towards one common goal. Because, after all, "maintenance is a team sport".