Along with general living costs, it will be no surprise that utility bills are on the rise. Consumers are looking for more affordable options for providing their homes with reliable energy they can afford. As technology has advanced, the cost of solar installation continues to fall. This decrease means solar panel installation is a more viable and potentially profitable option for consumers and businesses. 
Increased access to data via social media and the internet means consumers are becoming more aware of the negative environmental impacts that fossil fuels and reliance on diesel generators have on our planet. 40% of those surveyed reported that they intend to adopt more sustainable behaviour in the future. These intentions include reducing household energy consumption, increasing recycling and composting consumption, increasing recycling and composting, and buying locally produced goods.
"With the acceleration of Climate Change, the role of renewables will need to expand at a breakneck pace. Advancements in efficiency, the advantage of storage and the overall drop in costs will launch solar electric technologies and applications into a new world of clean, reliable energy production." Source – Sunsense
Investing in solar energy as an affordable and sustainable resource seems a no-brainer. However, a business needs to produce a profit. With all this potential, the solar industry remains a very competitive landscape. To stay on top of the game in an increasingly competitive marketplace, solar installers must avoid these common mistakes.
1. Not Thinking Long-Term
The best part about starting a solar energy business is that its primary resource (the sun) is free. However, it is vital to consider the up-front investment required in installing a solar power system. The question you need to ask yourself when planning any solar power endeavour is; "How long will it take for my installation to start turning a profit?". Centrica Business Solutions suggests that utility owners and solar panel installers could start to see a return on investment within 3years. While this is an optimistic statistic, the solar energy industry isn't a quick cash scheme.
Investopedia discusses why, in the long run, fossil fuels will get left behind, while renewable energy proves to be more profitable in the long term:
"The cost for solar power in Q4 2019 was below $.20 per KWH in all of the states recorded and below $.15 and $.10 per KWH in some states. The national average for fossil fuel electricity was $0.13. Prices are comparable, but the real savings from solar come in future years due to the 2.2% inflationary prices per year for fossil fuel electricity. With solar, you are locking in costs at a constant rate. The only additional cost factors are the upfront costs of installing a solar system and the fossil fuel electricity costs needed when solar doesn't cover all energy needs."
2. Letting the Sun do all the Work
PV Magazine warns that  "The inanimate nature of PV modules easily tricks one into thinking that all that needs taking care of is the owner sitting back and watching how the sun shines onto the array generating electricity and cash. Reality is much more complicated; modules, cables, inverters, and even the weather need to be continuously checked for their faultless functionality to ensure the project can always operate at its best. The tight financial margins of modern solar operations don't allow much room for error."
Implementing regular inspections, electrical testing, panel cleaning and aligning panels will optimize output generation, stave off outages and ensure the longevity of your renewable energy asset. Without regular checks and maintenance, the risks of outages and fastened degradation rates will directly impact the financial reward and cost thousands in avoidable losses.
3. Neglecting the Inverter
According to Neurons Lab, a solar inverter acts as the "brain" of a solar electric power plant. This "brain" ensures optimal electricity output, controls temperature, gathers data while adhering to standard compliance regulations. Although this vital element is a critical and complex component in the solar system for generating the optimum power levels, thus being prone to having the most issues.
To deal with the disadvantages of current maintenance methods, the solar industry greatly benefits from the early detection of inverter faults by the implementation of predictive maintenance.
EPRI Addressing Solar Photovoltaic Operations and Maintenance Challenges evidences a typical solar PV maintenance cost breakdown across the entire lifecycle of an asset's maintenance. By far, inverts prove themselves to require the most preventative and condition-based maintenance, followed by site work and communications.
The report from Raptormaps that analyzed PV systems inspected in 2020, encompassing 70,121,507 modules across 1,126 PV systems, with a total nominal capacity of 22,032,460 kW showed that:
String faults – affected 173,002 kW, which is 42.4%
Combiner faults – affected 58,247 kW, which is 14.3%
Tracker faults – affected 49,065 kW, which is 12.0%
The total impact of the PV system anomalies analyzed and identified by Raptor Maps represents a net present value (NPV) of $435 million. A vast number for any small-scale solar services business to ignore.
4. Omitting Rapport with Offtakers

"The productive life of solar panels and the electricity production from these panels over time depend on factors such as climate, module type, and racking system, among others. NREL research has shown that solar panels have a median degradation rate of about 0.5% per year, but the rate could be higher in hotter climates and rooftop systems. A degradation rate of 0.5% implies that production from a solar panel will decrease at a rate of 0.5% per year. This means that in year 20, the module is producing approximately 90% of the electricity it produced in year 1″.
NERL, Transforming Energy suggests that the failure rate within the first few years of a solar panels lifespan is relatively low. When it comes to selling assets to an off-taker, maintenance might not be the first thing on your mind. Ensuring you can evidence up-to-date maintenance records, checks and data can only increase confidence with an off-taker and build an excellent reputation within the marketplace. Thus, potentially increasing capitalization and transaction, generating a more sustainable business model for future growth.
5. Underestimating the Importance of Cleaning
Let's face it – cleaning is boring. Quite frankly, it is often the last thing you think about when trying to keep a solar business ticking over. However, it is also one of the most overlooked elements to maintaining profitability within the solar power industry.
The International Journal of Mechanical Engineering and Technology undertook a survey, asking installers how satisfied they were about the performance of their solar PV systems. Their results below illustrate how more than 40% of respondents admit that the performance of solar PV system was poor.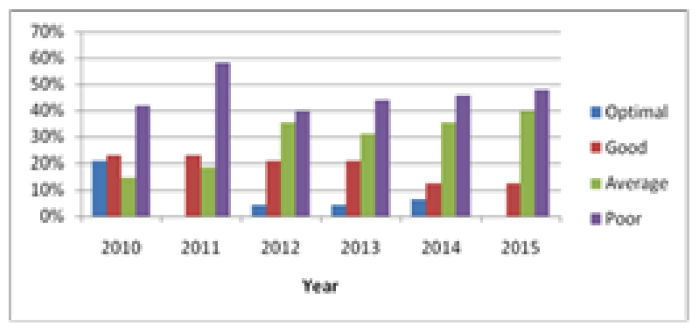 A second survey asked participants how often they clean their solar panels. The results below indicate that an astonishing 50% of respondents do not know if they are obliged to clean solar modules, while 38% clean only when needed, 2% quarterly, 2% twice and the rest which is 8% do once per annum.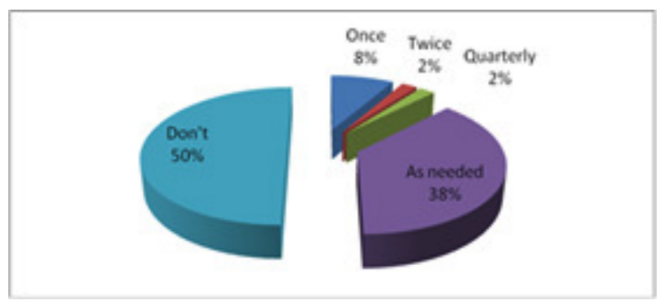 View Post
This result illustrates a direct correspondence between the cleanliness of a panel and the quality of performance and output an installer should expect. Solar panels are exposed to dirt, debris, unmanaged vegetation and pollution daily. Renewable Energy Hub recommends for maximum efficiency, most manufacturers recommend that your PV array be cleaned every six months. Our vegetation management software utilities enable you to improve service, identify hazards, and gain a more accurate view of vegetation conditions 
In conclusion, our research shows us that the most overlooked elements of a profitable PV solar system are the most critical in maintaining optimum power generation, increase in revenue and establishing a powerful reputation in a competitive market.
More News from 60Hertz
Grow your Solar Services Revenue  
60Hertz is hosting a live webinar!
Join Guest Panelist Matt Herman, Director of O&M Services at Namasté Solar, along with industry experts on October 21st at our "How to Grow your Solar Services Revenue" Webinar.
Find out more and register for your place today.
Maintenance is True Sustainability 
60Hertz has designed purpose-built Computerized Maintenance Management Software (What is CMMS?) that automates the tracking and maintenance for assets of small-scale utilities and owner-operators.
An effective CMMS that efficiently digitizes your maintenance program to drive down costs by automating alert triggered work orders, centrally managing field tickets, and more. Click below to connect with one of our helpful team or book a no-obligation demo.